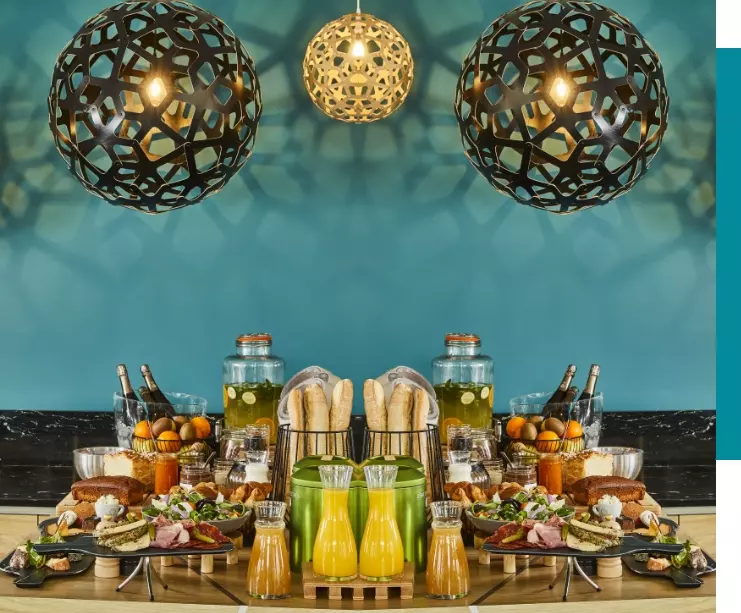 Come and discover our all-you-can-eat brunch every Sunday. We welcome you from 11:00 am to 3:00 pm in a warm and modern setting for a brunch as you like it!
SUGAR SIDE
Mini pastries
Pancakes
Waffles
French toast
Cereals
Dried fruits
Cottage cheese
Dishes
Dessert in a glass
SALTED SIDE
Chopped vegetables
Avocado salmon or ham club
Bacon and sausage
Ham with parsley
Wrap
Omelette / Fried egg / Scrambled egg
Home made terrine
Dishes cooked in show cooking
DRINKS
Smoothie bar
Cocktail bar
Detox water
Mineral water
Adult price: 35 €
With all-you-can-eat sparkling wine : 45 €
Junior less than 14 years old : 20 €
Children under 5 years old : free
Find out about our other menus
IN SUMMER
We invite you to (re)discover our outdoor space.
When the weather allows it, you can enjoy your brunch by M7 Restaurant in the shade of our pergola, from where you will have a view on our swimming pool and our outdoor space.
You will appreciate the savory dishes we offer: the hot dishes will be prepared in show cooking by our team; our all-you-can-eat buffet will also be composed of gourmet, local and fresh products.
Meet us every Sunday, in the center of Beaune, from 11 am to 3 pm.