Gastronomic weekend guide to Beaune (Burgundy)
Are you planning to spend a weekend in Burgundy to discover the region's gastronomy? We've got all the tips you need !
Where sleep ?
Perfect for a sightseeing break, our hotel is just 5 minutes' walk from Beaune town centre and the famous Hospices. You can take a walk along the ramparts, visit the collégiale Notre-Dame and the Musée des Beaux-Arts, and discover the wine cellars of Burgundy. With the motorway nearby and easy access to public transport, you can also explore the region.
Our hotel in Beaune promises you gourmet moments in our wine cellar, in our in-house cocktail bar and in our restaurant, where you can enjoy dishes carefully prepared by our brigade. When you're ready to relax, take advantage of our outdoor areas: terrace, pergola, and cool off in our swimming pool !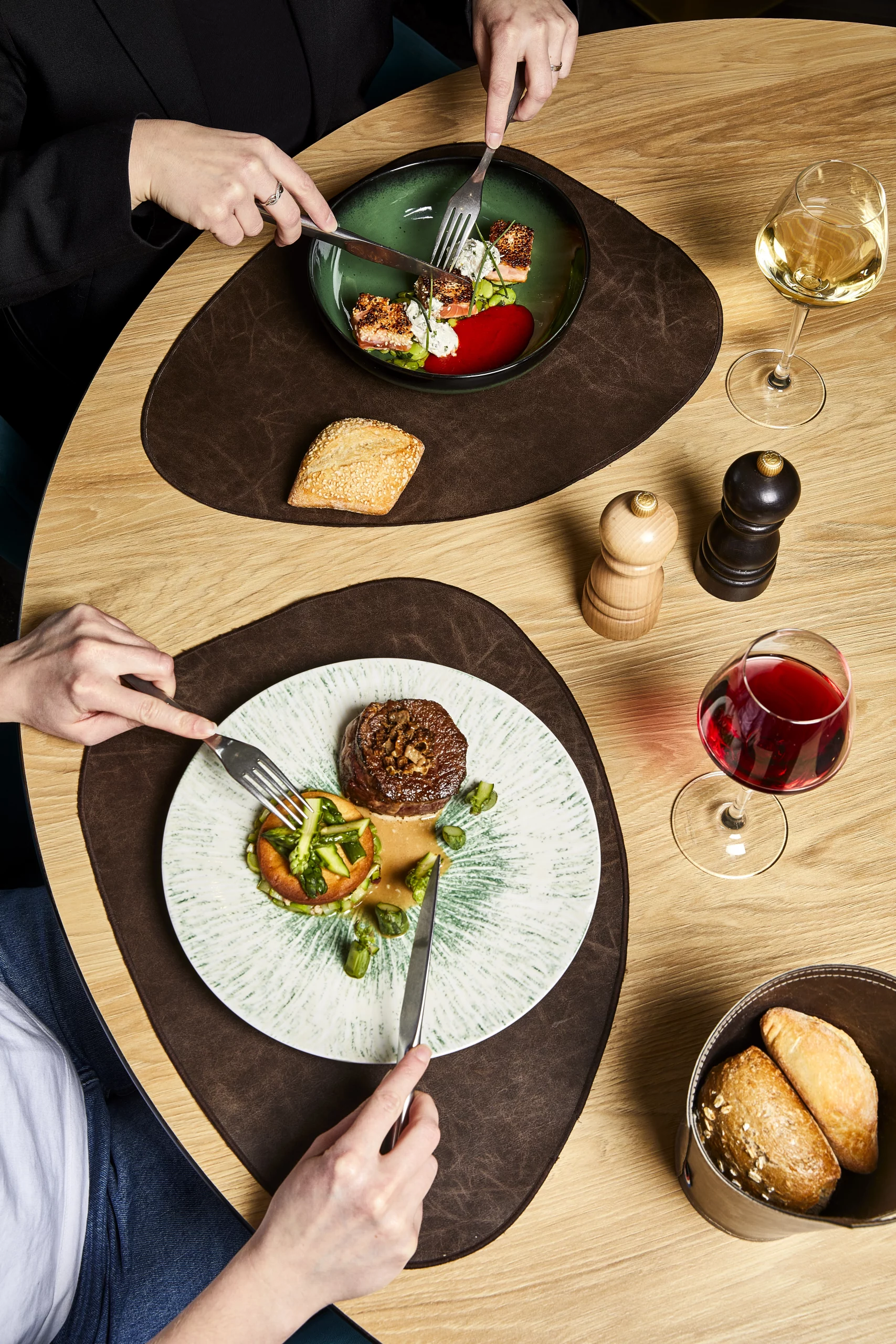 "A hotel ideally located for discovering Beaune town centre! A cosy interior, a dedicated team, offering all our guests a unique moment of conviviality for a business event or a stopover to discover the area! "Mederic FAUCHILLE, Hotel Manager
Where eat?
Make the most of your stay to discover what's on offer at the M7 Restaurant, where we welcome you 7 days a week in a warm and intimate setting.
Le M7 Signature
Let yourself be surprised by our Signature menu, a top-of-the-range offer prepared with the utmost care by our chef and his brigade. This menu is served evenings and weekends only. Choose the number of courses (4 or 5) and enjoy a pleasant and refined culinary experience.
Le Brunch by M7 Restaurant
Every Sunday from 11.30am to 2.30pm, we offer Brunch by M7 Restaurant. Enjoy our all-you-can-eat brunch buffet in a warm, modern setting. Sweet and savoury dishes, a variety of seasonal dishes and drinks (cocktail bar, smoothie bar, etc.) will be on offer. We'll also feast your eyes on show-cooking dishes.
Our gourmet offer is complete, and we encourage you to come and discover our lunch menu, our snack menu and our restaurant menu. This menu is renewed each season to offer you fresh, quality produce.
To visit  :
The Cité des Climats et vins de Bourgogne :
Inaugurated in May 2023, we recommend a visit to the Cité des Climats et vins de Bourgogne. This tourist and cultural attraction is perfect for your gastronomic weekend.
There's an interactive museum where you can learn more about the history, culture and winemaking techniques of the region. You'll discover the importance of terroir, local grape varieties and the different stages in wine production. The Cité des Vins also offers workshops and training courses on wine.
The Hospices de Beaune :
Because gastronomy and culture go hand in hand, the Hôtel Dieu, also known as the Hospices de Beaune, is just a stone's throw from the Cité des Vins. A landmark of Burgundy's historic heritage. Here you can admire its Gothic architecture and colourful roofs, and discover the history of medical care and charity that began there. The historic building dates back to the 15th century and now houses a museum, which you can also have the pleasure of visiting.
The Maison des Climats du vignoble de Bourgogne :
The Maison des Climats is an emblematic site in the heart of Beaune. It is dedicated to showcasing and promoting the Climats of the Burgundy vineyards, which have been a UNESCO World Heritage Site since 2015. You can enjoy interactive exhibitions that plunge you into the world of the Climats, and learn more about their origin, classification, cultural importance and close links with local viticulture. Guided tours are also available.
The cité de la gastronomie de Dijon :
The Cité de la Gastronomie in Dijon (40 minutes from Beaune) is a place dedicated to the culinary and gastronomic culture of the Burgundy-Franche-Comté region. The Cité de la Gastronomie features interactive exhibitions retracing the history, traditions, products and culinary skills of the region. The venue also organises cooking demonstrations led by professional chefs, giving you the chance to discover preparation techniques and culinary tricks of the trade, and you can even sample the dishes prepared. There are also workshops for preparing cocktails and tasting regional products.
Toute l'équipe du M7 Restaurant by Mercure Beaune vous à vos côtés pour vous faire passer d'agréables moments.