Spring events by M7 Restaurant
The M7 Restaurant invites you to meet us over the next few weeks for some relaxing moments!
Music Time – Nicolas Fourgeux :
Our musical evenings are back. In April, we had the pleasure of seeing Pierre Alexandre Petiot on stage with his show "The Boogies Blues Men". A nice spring evening with you to the rhythm of piano, drums and guitar.
Couldn't make it to the season premiere? On May 25th from 7pm to 9pm, for jazz lovers, meet "Nicolas Fourgeux" for a festive evening! You can also discover our wine list, our snacking menu and the restaurant's menu.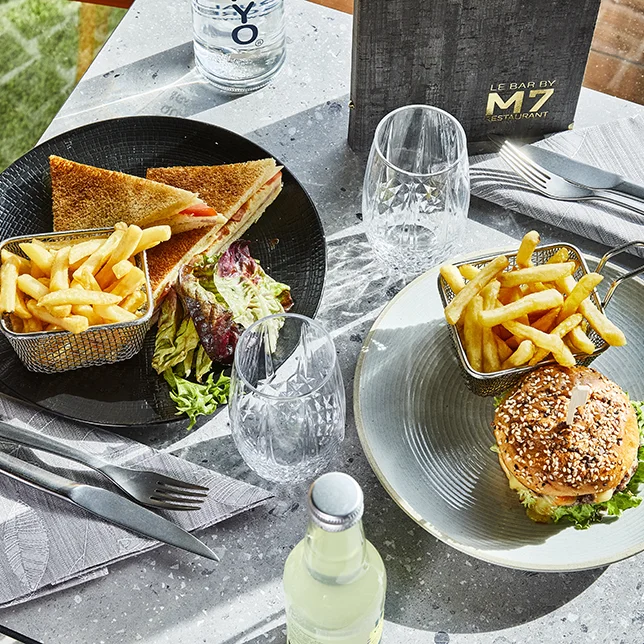 Brunch by M7:
You still haven't tried the Sunday brunch by M7 Restaurant? There's still time! Our team welcomes you from 11:30 am to 2:30 pm every Sunday to enjoy our all-you-can-eat buffet. Salty, sweet, hot, cold, there is something for everyone.
We have thought of everything: to make your mouth water, dishes will be cooked in show cooking before your eyes.
The fine weather is just around the corner, which is good news! Our pergola will be accessible for the occasion, you can also enjoy our swimming pool.
Discover our brunch menu right here
Music Time – Soul Escape:
In June, take part in our third musical evening. Join the trio "Soul Escape" on June 29th from 7pm to 9pm for a live Popp Folk and Rock concert with harmonica, violin, drums, guitar and vocals. With friends, as a couple or as a family, "Music Time" is the perfect time to get together, enjoy yourself and discover renowned local artists. Our team will accompany you by offering you our gourmet menus.
Discover our spring menu:
All spring, our menu is full of fresh products and colours. Our Chef Philippe LEGRAND puts his talent at your disposal. Don't hesitate to come and discover his table.
On the menu: freshly sourced seasonal vegetables, meat and fish, a dessert menu rich in flavours and originality. There really is something for everyone, you won't be disappointed! You can find our entire menu here
Business meetings:
Would you like to organise a professional meeting, a semi-annual review followed by a meal or an internal team building day? All year round, we welcome you for your professional meetings and seminars. You can count on the meeting rooms of the Mercure Beaune Centre hotel.
We also welcome you for your private events, in our reception rooms. Our customer service manager Cassandra Champagnat will help you choose a service that will suit your every need. Find all our services right here
The whole team of the M7 Restaurant by Mercure Beaune is at your side to make you spend pleasant moments.